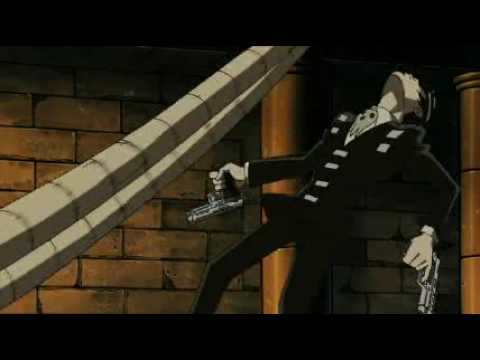 Maka is a Meister and Soul is her Weapon. As students at the Grim Reaper's Death Weapon Meister Academy, their study habits couldn't be more different. But in battle against the supernatural forces of evil, they're a freakin' lethal team.

That's when Soul transforms – literally – into a razor-sharp scythe, and every defeated wicked soul he sucks down makes him more deadly. That's when Maka unleashes the merciless slayer within, wielding her partner and dropping monsters. Seriously. Monsters. Like the witches, werewolves, and zombies that lurk in the shadows and feed on the souls of the innocent. Every freakish ghoul Maka and Soul take out strengthens their bond, and fighting alongside their fellow Meister/Weapon classmates, Maka and Soul are the world's last line of defense against evil.
I just finished watching all four seasons of "Soul Eater". I try to pick up lessons from anything I enjoy that I can apply to my creative life, and Soul Eater was a powerful lesson in both great visual character designs and engaging, unique character personalities.
The main characters all have their stereotypes (Maka is a hard-working student with an angry streak and absentee parents, Black Star is a self-centred orphan with a ego the size of the moon, Death the Kid is a perfectionist with crippling OCD) but there's sides to their personalities that unfold as the story progresses and gives them real depth. Plus, the story has a powerful underlying message about being able to accept your friends, despite how different they might be to you.
It also gained a lot of points by having a central relationship between a girl and a guy, both best friends and fiercely protective over each other, without resorting to romance. I felt like the 'bromance' worked out better for the anime and made their relationship feel much more powerful.
So if you're looking for a new anime, you can do worse than this sweet anime and it's gorgeously designed world. The storyline isn't anything to write home about, with a lot of recap and a few loose ends that never get tied up, but it does the job and the world of the DWMA is beautiful and fascinating.
I am so perplexed by this announcement. Trying to figure out the logic behind it just ties up my brain in knots. Did the studio execs go:
You know what I hate? Bromance! Friendship should only be between a man and a woman.
Or did they go:
You know what that Sherlock thing needs? MORE ROMANCE. AND SEX. But none of the gay stuff, ew.
As much as I like seeing studios cast lady main characters and non-white main characters, I just don't see this sudden gender swap going anywhere good. It would have been interesting if they'd gender-swapped Sherlock to go with this, so you'd still have the 'bromance' in a different form. Or if they keep Lucy Lui as a trained and battle-hardened army medic, I'll probably watch it -- women in the military are fascinating and brilliant. But going by this article, I'm not going to have any such luck:
Set in New York, it stars Jonny Lee Miller as the great detective – a former consultant to Scotland Yard whose addiction problems have resulted in a spell in rehab in the States – while Liu will play "Joan" Watson, a former doctor who has lost her license.